Corolla
Corolla is bolder, sportier and more fun than ever before. It's more spacious, more comfortable and more entertaining, yet still boasts the same tried and tested reliability you expect in a Corolla.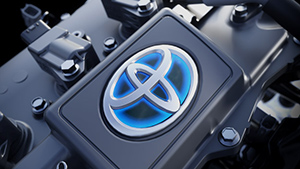 Working in perfect harmony, the Toyota Corolla's Hybrid petrol engine and electric motor unite to create one powerful, fuel-efficient system for economical driving.
Full power, hybrid efficiency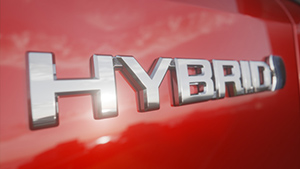 Charging while you drive, Toyota's hybrid engine delivers uncompromised performance and effortless acceleration, so you're always quick off the mark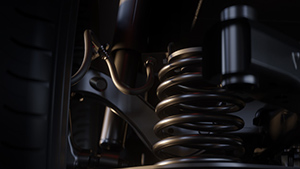 Enjoy the perfect drive with an independent rear suspension that delivers responsive handling, precise steering and a smooth, comfortable ride.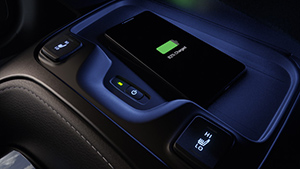 No need to mess around with cables. Simply place your phone into the dock and know that it's charging. Available now on SX and ZR models.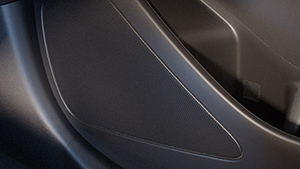 The premium JBL[C8] audio system in Corolla ZR has eight speakers, each one finely-tuned to fill the car with extraordinary sound quality.
Everything in front of you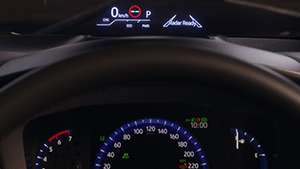 Advanced displays, including a Head-Up Display on Corolla Hatch ZR, puts the information you need in easy view, so you can focus on the road.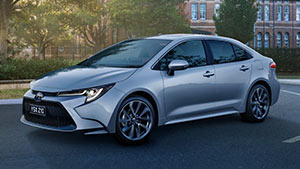 The All-New Corolla Sedan puts you where you want to be, at the forefront of exhilaration and style. Inside, it's the details that will excite and make Corolla Sedan fun to drive.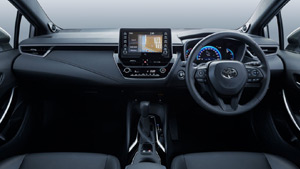 When you're seated inside the Corolla Sedan the first thing you'll notice right away is the sense of space. This is a stylish, four-door sedan designed to create a sense of space.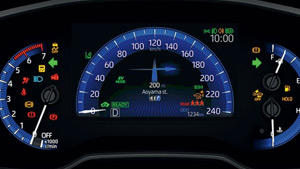 The data you receive while you are driving can make a world of difference. The 4.2″ Multi Information Display (MID), or 7″ on Corolla Sedan SX Hybrid and ZR models.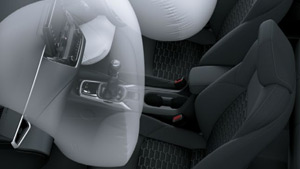 You can drive with confidence knowing the Corolla Sedan is equipped with advanced safety features and technology. There are 7 SRS airbags to help protect the driver and passengers.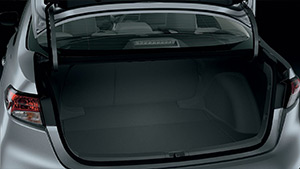 The impressive 470L boot capacity accommodates golf clubs to groceries. Instrument panels in front of the driver are slim and streamlined, while maintaining excellent navigation and visibility.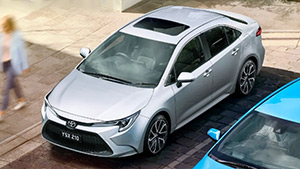 You'll feel it with every drive. In every twist and every turn. It's our unwavering commitment to move you, not only today, but well into tomorrow as we relentlessly re-imagine the future of mobility.
*The standard Toyota Warranty Advantage period for new vehicles is 5 years with unlimited kilometres and, if the vehicle is properly maintained, up to 7 years Engine and Driveline and up to 10 years Hybrid Battery with unlimited kilometres. Refer to warranty conditions. This warranty does not limit and may not necessarily exceed your rights under the Australian Consumer Law. View Terms & Conditions.
[C8]  JBL® is a registered trade mark of Harman International Industries, Incorporated.
[T1] Price is model specific at participating dealers only. Maximum payable for standard scheduled servicing (normal operating conditions) for a nominated number of months/kilometres (whichever occurs first) up to a nominated maximum number of services. Excludes Government & Rental vehicles. Contact your Toyota Dealer or go to toyota.com.au/advantage for other exclusions, eligibility and full details.
[T7] Terms and condition, fees and charges apply. Toyota Access Guaranteed Future Value products are available to approved customers of Toyota Finance a division of Toyota Finance Australia Limited ABN 48 002 435 181, AFSL and Australian Credit Licence 392536.
[T9] Terms and conditions apply. Before making a decision about this product, please read the current Product Disclosure Statement (PDS) available from participating Toyota Dealers, via our website toyotainsurance.com.au or by calling 137 200. Toyota Insurance is issued by Toyota Finance Australia Limited ABN 48 002 435 181, AFSL and Australian Credit Licence 392536. The insurer is Aioi Nissay Dowa Insurance Company Australia Pty Ltd ABN 11 132 524 282 AFSL Number 443540. Our insurance policies do not change or take away your rights under the Australian Consumer Law. Your right to claim under our policies for the benefits covered are in addition to other rights and remedies you have under the law in relation to your vehicle. However, you can choose to make a claim under any of our policies even if you have rights under the law.